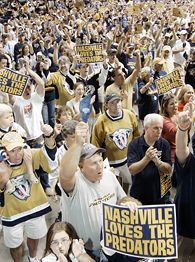 First off, I'd like to extend my congratulations to the organizers of Nashville's "Our Team" rally which undoubtedly had an impact on the team's sale to a Nashville investors group earlier today. And enough people have covered the logistics and details of the deal as well as the investors group, which, according to Mirtle, includes former San Jose Sharks minority owner Williams "Boots" Del Biaggio, who will give up his stake in the Sharks. But building on what Adam Proteau of the Hockey News essentially stated in his blog today when he voiced his concern over how the situation involving a local group seems eerily familiar to "The Spirit of Winnipeg" investors coalition that made a pitch to buy the Jets before they were eventually moved to Phoenix.
While a binding letter of intent by former Preds owner Craig Leipold (who, as an aside, is apparently looking into purchasing the Minnesota Wild), seems to put to rest those conceptions, it makes sense to raise the question "What's next?" in regards to the team's future in Nashville. Yes, they switched owners and will remain in Nashville, but no matter how saintly 36 Venture Capital LLC may seem to the people of Nashville, they are not a charity, which leads me to believe they, like Leipold, will not, and should not have to, tolerate a team that is not financially viable in its current market.
Yes, the aforementioned "Our Team" rally was a tremendous success in selling season tickets, but who were the consumers? From the articles I read regarding the event, they ranged from blue-collar workers to 12-year-old kids forsaking plasma TVs to keep the Preds in Music City, and nowhere in between were corporate supporters. As long as Nashville lacks significant sponsors, even if it is to hit the vaunted 14,000 seat total, it's unlikely the team will be turning profits in its current state.
That's where Del Biaggio comes in. The California venture capitalist previously purchased the rights to either move an existing NHL team or acquire an expansion franchise to play in the Sprint Center in Kansas City. Assuming in the long term -- and one imagines 2-3 years in the red will raise some eyebrows among David Freeman and co. -- the team continues to struggle financially, a move to Kansas City is still very plausible and in fact probable. However, today is still a glorious turn in the young history of the Predators and, for now, ends the tiresome Summer soap opera the selling of the franchise regressed into.