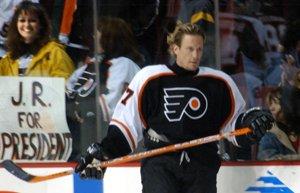 You've got to be kidding me. Back in the infancy of Bleed Teal (a whole two months ago), I
reported
that nine-time All-Star Jeremy Roenick was calling it quits, as per Tim Panaccio of the Philadelphia Inquirer, who received a text message from the former Blackhawk, Flyer, Coyote and King announcing his retirement. Weeks later came murmurs that Roenick spoke too soon and the inevitable rumors that he would return to Chicago to don a No. 27 jersey once more en route to reaching 500 goals (he currently sits at 495) ran rampant. Those fires were eventually quelled and most in the hockey world assumed that Roenick had, indeed, thrown in the towel. Well, apparently that isn't the case, as the San Jose Sharks, in an
official press relase
, stated that they have signed Roenick to a one-year deal, worth $500,000 as per
TSN
.
Doug Wilson has been mumbling for a good two weeks now that he was intending to bring in a player from "outisde the organization" to battle for a roster spot in training camp. Who could have imagined JR Superstar was that player? At this stage of his career, especially with his post-lockout statistics, Roenick isn't much more than a bottom six forward, but on a deep team like San Jose, that's all he needs to be. He will also become the first Shark to score 500 goals when he joins that club sometime during the season. A rough sketch of the Sharks' current depth chart:
Michalek--Thornton--Cheechoo
Clowe--Marleau--Bernier
Rissmiller--Brown--Grier
Goc--Roenick--Setoguchi
Pavelski
This signing likely signals that the Sharks will not be signing Mark Smith, although it doesn't necessarily rule it out entirely. And in celebration of the signing, I managed to unearth from the gallows of YouTube a TSN Top 10 featuring some of JR's most unforgettable antics.